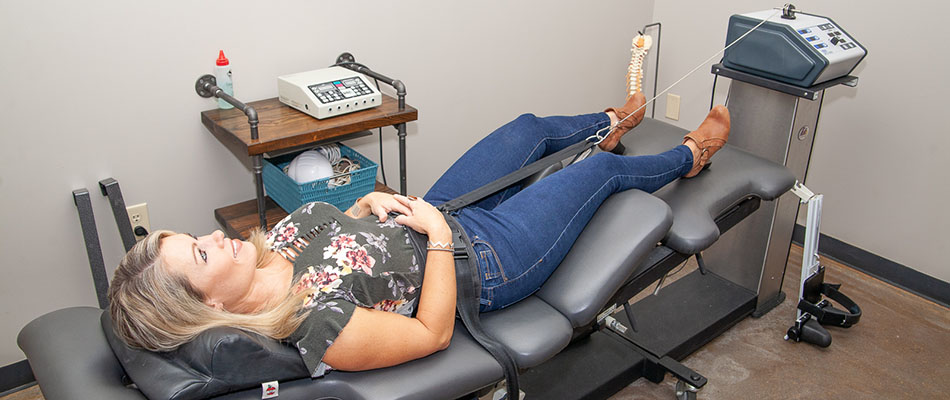 If you have ever been to a chiropractor, than you may have heard the term Spinal Decompression Therapy. This is a term we use often in our practice, as we know how helpful it can be as a non-invasive option that relieves chronic back pain. For those individuals who have never heard the term Spinal Decompression therapy, what it consists of, or how it can help; we wanted to provide you with the education necessary to see if you would be a good candidate for this type of treatment.
What is Spinal Decompression Therapy?
Spinal Decompression Therapy is a nonsurgical option that is best for treating individuals with mild to moderate back pain. This therapy method is used to relieve pressure on pinched nerves in the spine that cause chronic pain and is done by realigning the spine which increases circulation to the damaged disc allowing natural healing to take place.
How is Spinal Decompression Therapy performed?
Spinal Decompression Therapy is performed on a motorized table that allows the lower half of table to move, while the upper half stays fixed.
Patients receiving Spinal Decompression Therapy remain fully clothed and lie on their backs on the table. A harness is then placed around their hips and connected to the lower portion of the table. As the table moves with the patient on it, stretching takes place. Patients experience no pain during or after compression therapy.
Who is eligible to receive Spinal Decompression Therapy?
Not sure if you could benefit from this type of therapy? That is where Dr. Andrea comes in. Dr. Andrea will examine you and listen to the symptoms you are experiencing. She will then use this knowledge to find out if you are a good candidate for Spinal Decompression Therapy.
What symptoms or conditions do most Spinal Decompression Therapy patients have?
Herniated Disc and Sciatic Nerve Pain
Degenerative Disc Patients
Facet Syndrome Patients
Failed Spinal Surgery Patients
Patients who don't improve after non-operative treatments
If you are plagued by chronic back pain, don't wait another day to give us a call. Dr. Andrea has the training and experience to help those who are suffering from chronic back pain to recover, and she is prepared to help you heal as quickly as possible.